Ozark Mountain Gift Lots
Own a Piece of America for only $999!
HUGE SALE HAPPENING RIGHT NOW - SAVE A BUNDLE - BUY LOTS!
Relax and enjoy the laid-back lifestyle in these beautiful fresh air Ozark Mountains.
Forested "Gift Lots" for sale - includes timber rights.
They're about 30 feet by 100 feet - probably too small to build on - but there's lots of timber and wildlife.
Roads to the Gift Lots are overgrown - you may need to hire a surveyor to find your lot boundaries. But there's no maintenance - property taxes are less than $20 a year - and hey, you'll own a piece of America!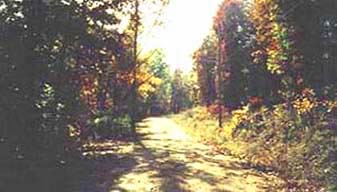 Roads to the Gift Lots may be worst than this - but it sure is purty!
Available lots and details are further down the page.

Transfer of title to the land you choose will be effortless - we'll do it all! We've been in the Ozark Mountain real estate business for 15 years and we've sold almost 2,000 lots in this area. (We're investors - we only sell our own land.) It doesn't matter where in the world you live, as long as you have postal or FedEx/UPS delivery service, we'll get your deed to you.
Here's how to buy a piece of America for only $999!
Scroll down to pick your lot/s from the list. Then type in the number of the lot you want to buy in the Buy Now box - or leave it blank and we'll pick a lot for you. The terms of our contract apply to the sale of Gift Lots. You can buy just one, or as many lots as are still unsold. They're going fast! International buyers are welcome.
Click the "Buy Now" button below to buy a Gift Lot for $999 USD plus $220 closing costs. Use the button multiple times to buy more than one lot. The recorded deed to your land will arrive at your doorstep within weeks.
A Warranty Deed will be processed, including public recording and government stamps, and delivered to you soon after your payment clears.
Pick your lot from the list below. Then click the Buy Now button to go to www.paypal.com and securely make your purchase from your bank account, credit, or debit card. Leave the box blank if you want us to pick the lot for you. Click the button more than once to buy several lots.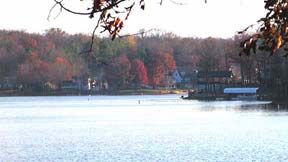 The Gift Lots listed for sale in the chart below are located on the outskirts of the Town of Hardy, Sharp County, Arkansas USA
Satellite view of the Conmack and Conmack 2nd Addition Gift Lots.
We are continually making changes to our pages so be sure to refresh your browser often. (Click the curved arrow/s in your browser command line.) Note too that plat maps are copies of copies - we can't make them clearer than they are, sorry.
Plat Map of the Conmack Addition
Plat Map of the Conmack 2nd Addition
How to Read the Legal Descriptions in the Chart below.
"Conmack "and "Conmack 2nd" are the Addition.
"B" = Block - followed by the block number
"E/2" = East half of the lot number after the -
"W/2" = West half of the lot number after the -
"S/2" = South half of the lot number after the -
"N/2" = North half of the lot number after the -
The long number is the parcel number - used for tax purposes.
"Sharp" = the County in the State of Arkansas USA where the lots are located.
Many of these lots are side by side - look for the E/2 and W/2 of the same Block and Lot.
1. Conmack

SOLD

B06

Lot E/2-3

34200196000

Sharp

2. Conmack

SOLD

B06

Lot W/2-3

34200197000

Sharp

3. Conmack

B07

Lot E/2-4

34200211000

Sharp

4. Conmack

B07

Lot W/2-4

34200212000

Sharp

5. Conmack SOLD

B07

Lot E/2-5

34200213000

Sharp

6. Conmack SOLD

B07

Lot W/2-5

34200214000

Sharp

7. Conmack SOLD

B08

Lot E/2-7

34200235000

Sharp

8. Conmack

SOLD

B08

34200236000

Sharp

9. Conmack

B08

Lot E/2-11

34200237000

Sharp

10. Conmack

B09

Lot S/2-14

34200263000

Sharp

11. Conmack

B09

Lot N/2-18

34200268000

Sharp

12. Conmack

B09

Lot S/2-18

34200269000

Sharp

13. Conmack

B09

Lot E/2-19

34200270000

Sharp

14. Conmack

B10

Lot N/2-4

34200290000

Sharp

15. Conmack SOLD

B10

34200291000

Sharp

16. Conmack

B10

Lot N/2-5

34200292000

Sharp

17. Conmack

B10

Lot S/2-7

34200297000

Sharp

18. Conmack

B10

Lot W/2-10

34200302000

Sharp

19. Conmack SOLD

B10

Lot E/2-11

34200303000

Sharp

20. Conmack

B10

Lot W/2-11

34200304000

Sharp

21. Conmack

B10

Lot E/2-13

34200307000

Sharp

22. Conmack

B10

Lot E/2-14

34200309000

Sharp

23. Conmack

B10

Lot W/2-14

34200310000

Sharp

24. Conmack

SOLD

B10

Lot E/2-15

34200311000

Sharp

25. Conmack

SOLD

B10

Lot W/2-15

34200312000

Sharp

26. Conmack

SOLD

B10

Lot E/2-16

34200313000

Sharp

27. Conmack

SOLD

B10

Lot W/2-16

34200314000

Sharp

28. Conmack SOLD

B02

34400037000

Sharp

29. Conmack 2nd SOLD

B02

Lot 20

34400052000

Sharp

30. Conmack 2nd

SOLD

B02

Lot 37

34400069-000

Sharp

31. Conmack 2nd

B02

Lot 40

34400072000

Sharp

32. Conmack 2nd SOLD

B02

Lot 54

34400086000

Sharp

33. Conmack 2nd SOLD

B03

Lot 2

34400114000

Sharp

34. Conmack 2nd SOLD

B03

Lot 3

34400115000

Sharp

35. Conmack 2nd SOLD

B03

Lot 6

34400118000

Sharp

36. Conmack 2nd

B03

Lot 29

34400141000

Sharp

37. Conmack 2nd SOLD

B03

Lot 38

344-00150-000

Sharp

38. Conmack 2nd SOLD

B03

Lot 39

344-00151-000

Sharp

39. Conmack 2nd SOLD

B03

Lot 57

34400169000

Sharp

40. Conmack 2nd SOLD

B03

Lot 58

34400170000

Sharp

41. Conmack 2nd SOLD

B03

Lot 59

34400171000

Sharp

42. Conmack 2nd SOLD

B03

Lot 60

34400172000

Sharp
Click the "Buy Now" button below to buy a Gift Lot for $999 USD plus $220 closing costs. Use the button multiple times to buy more than one lot. The recorded deed to your land will arrive at your doorstep within weeks.

All sales are subject to the terms of our online contract - the contract is executed when you make a payment.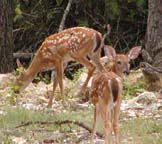 About the Gift Lots
In the late 1990's SunSpring Properties LLC purchased a huge package of vacant lots from a family that has lived in the beautiful Ozark Mountains for several generations. In addition to hundreds of oak-forested residential building lots, we got some small unbuildable "Gift Lots".
Gift Lots measure from about 30 feet by 100 feet to about 30 feet by 195 feet.
Most of the Gift Lots we have left are located within the town limits of or very close to historic Hardy, Arkansas. This is a beautiful fresh air vacation retirement area with two rivers, golf courses, 14 spring fed lakes and miles and miles of pristine oak forests and rolling hills teeming with wildlife.
This beautiful place was originally developed in the 1950's - surveys completed and roads, power, and telephone installed. Some of the parcels were subdivided into smaller "gift" lots, with the intention of using them as an added incentive to get people here to buy the full-sized lots. But they're all the same beautiful Ozark Mountain hardwood forest - just a smaller piece of it!

Today, the roads in the Gift Lot Additions have deteriorated due to lack of use, but electricity and telephone are still nearby and some of the roads are passable. It's all part of the back-to-nature seclusion that many people are seeking!

You'd have a hard time passing a "percolation" test for a private septic system with the small lots, so we're saying that Gift Lots are not buildable. However, you could try persuading the Health Department to approve a composting toilet or some alternative method of disposing of waste? We just don't know. For a list of what you "CAN" do with a gift lot, keep on reading.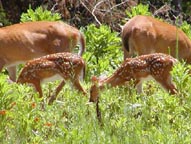 You Get the Timber Rights!
We just haven't had the time or the inclination to price out the timber on these Gift Lots - we've always had too much else happening to follow up on that potentially lucrative revenue stream. But let me tell you something that happened when our company bought this huge package of lots that we are now selling.
As we strolled through the beautiful forest looking at the land we had just purchased, every now and then our guide, a man whose family has lived here for generations and owned a lot of land, would point to a particularly large tree and say:
"There's a thousand dollar tree!"

We're not making promises of any kind - as I said, we don't know timber, and furthermore we don't care much about cutting down trees - but I thought you might be interested in that story - it's true!

Oh, just in case you're a hunter (we're not) this man also mentioned to us that he's a bow hunter and always gets his deer (in season.)
He gestured towards a forested hillside and said:
"There's a tree in there with twenty-seven notches on it!"
Interesting man! Apparently if you're a resident, so inclined, and get to know the old-timers, there's still some classic 'coon huntin' goin' on (in season) at the nearby 13,000 acre State Game Preserve. You've seen it in the movies - dogs and flashlights!
But now I'm tellin'...
The Gift Lots that we have for sale on this page are not big - but they're packed with value. Buy one or more Gift Lots and YOU'LL OWN A PIECE OF AMERICA!
Nobody can kick you off your own land!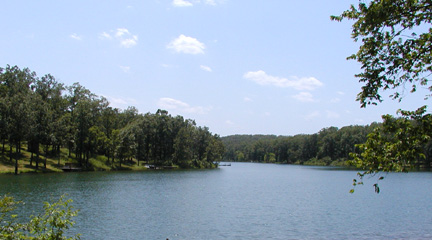 Lake Mirandy - you can walk to this lake from the Conmack Gift Lots.
"Hi, I am sorry we didn't manage to stop by and visit you on our trip to Cherokee Village last week but I want to tell you I am very happy with the 3 different lots. 2 of them were easily accessible by car and fairly easy to determine exactly where the lot was but we had difficulty finding (one), although when looking at the map now I think I will be able to find it next time. I think it is a very good idea to sell these gift lots to stimulate more interest around the country in Cherokee Village, there is plenty of room for expansion and building houses around the large area this city covers and I particularly loved the great views and wonderful hills."
"I think the place is 10 times more attractive than I expected so we are very pleased."
"Thanks for selling these lots to us and getting us interested in your wonderful village. Feel free to quote me to other potential buyers if you like." Yours, Moe & Karen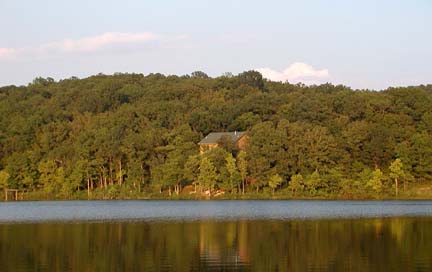 There's gift lots up in them thar hills just over the holler t'other side.
Here are 15 good reasons why you want to own some Gift Lots.
1. Our prices are so low for a valuable piece of hardwood-forested land in a prime investment retirement area that you can afford to give these Gift Lots away! Use them for incentives - awards - compensation - contests - promotions - motivators - BIRTHDAYS - weddings - coming of age - child's first investment - swap for other products or services - donations to charities, clubs, associations, auctions, fund raising...
2. Here's a recent email from the CEO of a corporation that is buying Gift Lots: "My deepest thanks. These make great promotions for our employees, and customers. Would like some more information on your land. You have a very nice web page. Jason"
3. Nature walks and sights on your own land - hugatree!
4. See and feed deer, wild turkeys, squirrels, armadillos, turtles, blue birds, raccoons... on your own land!
5. The pride of owning land in the fabled USA Arkansas Ozarks - a prime investment vacation retirement area - boast about it!
7. Arkansas residents qualify for discounts on hunting and fishing licenses.
8. Possible tax benefits.
10. Land doesn't burn down, doesn't get graffiti, has no tenant problems, has low taxes, no maintenance problems, no repairs, no utility bills, no painting, no plumbing problems, you don't even need to live near your land to reap the many benefits of being a LAND OWNER. (Ask us what comes with owning a wee piece of land in Scotland - we have some of that for sale too.)
11. At the price we're selling these lots you could probably add on a sizable profit and with some marketing skills, resell your land. (A man in Germany bought fifty gift lots from us for resale.)
12. Preparation for the future - this area is being discovered, land values in all locations are starting to go up significantly - some of these lots are quite close to the four lane highway or the Hardy bypass - who knows what commercial development may happen in a few years?
13. Looks good on your financial statement - you bought this land on the Internet at a deep discount price - what's it really worth?
14. Swap/trade your land for something you want even more.
15. Buy more Gift Lots, assemble acreage, improve your land - find a unique use for it - it's YOURS!!
You fill in the blanks - there may be a whole lot more reasons why you'd be smart to buy a bunch of these beautifully forested Gift Lots - while they last.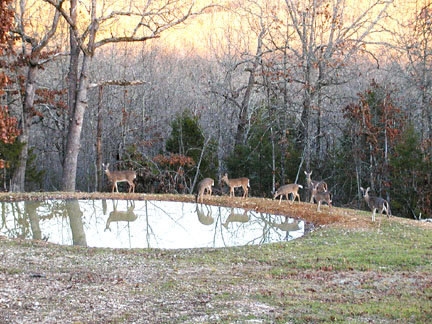 A few years ago my wife and I (owners of SunSpring Properties) enjoyed a leisurely winter stroll through the Oak Hill Gift Lots, crossed the creek, and walked along the old road (now best for 4x4 vehicles.) We were never far from a paved road, houses, and the lakes; but it seemed that we were secluded in this peaceful oak forest. We brought back a few photos but were disappointed that the size of the oaks didn't show so I'm not posting them here. We saw one or two giant trees, maybe thirty or more inches in diameter - towering to the sky - not sure if they were on our property or not but they may have been. Wonder what they would be worth for timber?
Don't you wish you were here...

Press Control-D to Add this Page to your Favorites
This page is up to date as of:
This entire website and the contents, photos, and images on each page are copyrighted under international copyright laws. All rights are reserved.